I realize that year-end lists are the height of self-absorption, but everyone else is busy making them. Don't I have as valid an opinion as, say,
Amazon.com
?
But the main reason I'm posting this list: I haven't done as much illustration over the holidays as I was planning and am stuck for a blog post. These lists are relevant — they're all cultural artifacts that, in some way or another, will influence my work — so this is a valid exercise. Also, I want to see if any of the other Sketchkriegers are willing to share their lists.
I've kept it to comic books, movies and songs (in no particular order). I could add other categories, but books are a dangerous territory for me to enter (as a book publicist), television shows are difficult to rate as ongoing entities and few
tapestries
have made an impact on me this past year.
Comic Books
(Read in 2010, not necessarily released in 2010)
1)
Afrodisiac
- Brian Maruca & Jim Rugg
Killer concept, and the vintage illustration styles are expertly done. I thought it could stand to amp the satire up a bit, but that's a minor complaint.
2)
Daredevil: Born Again
- Frank Miller & David Mazzucchelli
Never thought I'd put a Frank Miller book on this list, but this was when he was 80s-inner-city gritty before going completely off the deep end. The story also focuses on the great supporting character of Ben Urich, Daily Bugle reporter. And David Mazzucchelli (Batman: Year One) is a fantastic illustrator.
3)
Criminal 3: The Dead and the Dying
- Ed Brubaker & Sean Phillips
Everything Ed Brubaker and Sean Phillips do is outstanding, but I found this Criminal installment, with three separate narrators and three intersecting stories, particularly affecting.
4)
Scott Pilgrim 6: Scott Pilgrim's Finest Hour
- Bryan Lee O'Malley
The final chapter to one of my favourite comic series of all time did not disappoint. I found the hyper-realistic, super-manga backgrounds a bit jarring, but it was a satisfying finale. And Scott Pilgrim's character arc from beginning to end is really something.
5)
Walking Dead 12: Life Among Them
- Robert Kirkman & Charlie Adlard
As the television series premiered (and kind of wobbled at the end), I threw myself back into this fine zombie-centric horror series. And while the twelfth volume was certainly not the most intense or disturbing, there was something very unsettling about it all.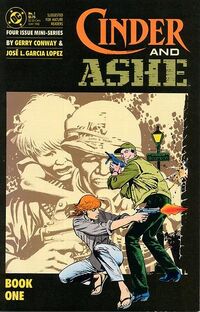 6)
Cinder & Ashe
- Gerry Conway & Jose Luis Garcia-Lopez
I picked up this 80s gem on a whim at a convention, remembering the ads in the back of DC comics from that era. It's a streetwise tale about two mercenaries (one a Vietnam vet, one a Vietnamese war orphan) tracking down a killer. I liked it way more than I should.
7)
Irredeemable
- by Mark Waid & Peter Krause
If you aren't reading this series, you really should be. Ever wondered what would happen if Superman lost it and turned evil? It would probably look a lot like this book. But Irredeemable takes that concept into more and more complex and darker corners with each issue.
8)
Tales Designed to Thrizzle
- by Michael Kupperman
Totally bizarre, absurd comedy gold. 'Now with too much colour!'
9)
Turf
- Jonathan Ross & Tommy Lee Edwards
I'd pick up any book illustrated by Tommy Lee Edwards, but this series, which mashes up vampires, 1930s gangsters and aliens into one world, is really out-there. In a good way.
10)
The Hipless Boy
- by Sully
A great slice-of-life graphic novel about a young man living in the Mile-End area of Montreal, finding love, dealing with fellow artists and way more. Funny, touching and unusual vignettes of life, published by great Canadian indie press, Conundrum.
Movies
(Watched in 2010, mostly released in 2010)
1)
Marwencol
- Jeff Malmberg (dir)
Captivating documentary about a man who copes with a horrible trauma by creating the fictional WWII-era town of Marwencol in his backyard, populating it with dolls (many of whom resemble people in his daily life) and photographing their adventures.
2)
Tron: Legacy
- Joseph Kosinski (dir)
Say what you will, but with those visuals and that music, the movie could dispensed with a story altogether and I would have enjoyed it immensely. One of the only action blockbusters that delivered in 2010.
3)
Scott Pilgrim vs. The World
- Edgar Wright (dir)
Despite having a completely different second half than the books, this was an incredibly faithful adaptation, and probably more of an achievement in advancing film language than Avatar. Really like no other movie I've seen in capturing the comic book feel. And hilarious, too.
4)
Inception
- Christopher Nolan (dir)
The zero-gravity Joshua Gordon-Levitt fight ensured this movie's inclusion.
5)
Rubber
- Quentin Dupieux (dir)
I saw this at this year's After Dark Film Festival. A car tire gains sentience, gains the ability to destroy things with its mind, goes on rampage. All with a Greek chorus of onlookers watching and commenting on the action from a safe distance. But it's actually way better and smarter than that synopsis makes it sound.
6)
The Butcher, the Chef and the Swordsman
- Wuershan (dir)
A film from mainland China I saw during the Toronto International Film Festival; my favourite of the fest. The story follows a knife through three generations (in the possession of a butcher, chef and swordsman, naturally), and is one of the more inventive and funny movies I've seen in a long time.
7)
Streets of Fire
- Walter Hill (dir)
Okay, this movie came out in 1984, but I'd never heard of it before this past year. It's as if someone took a Meat Loaf song and turned it into a feature film. Amazing songs, bizarre fictional setting, sledgehammer fight. What more do you need?
8)
Black Swan
- Darren Aronofsky (dir)
Showgirls for the art-house crowd. I'm happy that Darren Aronofsky is back in the freak-out operatic mode of his pre-Wrestler films.
9)
Four Lions
- Christopher Morris (dir)
This movie does the seemingly impossible: makes a genuinely funny movie about four Islamic terrorists. It's entirely believable, but entirely humourous, too. Cringe-worthy laughs all around!
10)
The Social Network
- David Fincher (dir)
This movie was crowd-pleasingly good. I loved the Winklevoss twins (they get all the best lines), the despicable protagonist, the Trent Reznor score. It's a solid movie.
Songs
(All released in 2010)
1) Die Antwoord -
Evil Boy
They're a troubling group to like, but I really love Die Antwood.
2) The Like -
Why When Love Is Gone?
The Like is so incredible now that they've turned mod. And this Isley Brothers cover is the best song on their new album.
3) Daft Punk -
Tron: Legacy Soundtrack
How can you pick one song? So epic!
4) Arcade Fire -
Sprawl II (Mountains Beyond Mountains)
The Suburbs is a phenomenal album, but I like it best when the Arcade Fire gets all dance-tronic. Like with this song.
5) Sex Bob-omb -
We Are Sex Bob-Omb
Second entry where the soundtrack and movie both made the lists. Coincidence?
6) Yeasayer -
Ampling Alp
I saw the video late one night on 'The Wedge' (apparently that still exists) and was entranced. Bought the album the next day.
7) Diddy Dirty Money (feat. Skylar Grey) -
Coming Home
Guilty pleasure. I can't tell you why I like this song so much. I hate every other Diddy/Daddy/Combs joint. Why can't I resist this one? Why does Diddy dress like Wesley Snipes in Blade?
8) Los Campesinos! -
A Heat Rash in the Shape of the Show Me State
My favourite new song by one of my favourite bands. Is it possible to be both twee and punk? And with such clever lyrics? It upsets me in a way.
9) Crystal Castles -
Baptism
Good album. Good song.
10) Janelle Monae (feat. Big Boi) -
Tightrope
It's been a bit tainted since becoming the official advertising jingle for some new car model, but it's super. I'm surprised it didn't go much of anywhere. Y'know. Before the car commercials.
Okay. I want to see your favourites! I need to discover new music, movies and comics!